Lyn Stickland - Gerante & Monitrice BEES1
paru le 15/01/2011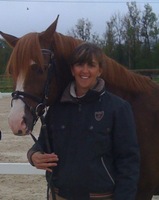 Je suis la propriétaire et la gérante des sports équestres de Belle Ferme. Entre l'âge de 10 à 25 ans, j'ai beaucoup monté en concours, principalement en obstacle. Durant la pluspart de mes vacances j'allais chez le cavalier de cso Michel Parot, (voir Tanqarville, record du monde de puissance 2m47!). J'ai passé mes diplômes de monitrice d'équitation en France et en Angleterre. J'ai ensuite passé plus d'une vingtaine d'années à construire notre centre équestre, surtout avec Angela mais aussi la famille. Durant ces années - souvent très difficiles mais passionantes en même temps - j'ai passé des heures tout les matins à nettoyer des boxes, rentrer et sortir les chevaux, donner les cours, des stages, des ballades, des randonnées en plus de faire secrétaire, chauffeur de camion, coach en concours.. des années sans jours de congés et sans vacances, mais l'énorme plaisir d'avoir construit ensemble, en partant de rien, ce que nous avons aujourd'hui. Suite à un incident familiale en 2003, le décès soudain de mon mari Bernard Ibos, j'ai decidé de prendre aussi le temps de vivre mon rêve, c'est à dire monter à cheval. Je me concentre dorénavant sur le dressage en entrainant avec beaucoup de plaisir certains de nos cavaliers (ainsi que mes filles!). Je part dès que possible en Hollande suivre des cours de dressage chez les Van Baalen. Du coup maintenant vous me verez plus souvent dans le manège à cheval qu'à pied, mais de la haut, je garde un oeil attentif sur nos cavaliers et ma très appriciée équipe d'enseignants! Je suis aussi mariée à mon formidable mari, David..

I am the owner and manager of the Sports Equestres de Belle Ferme. From 10 -25 years old I competed a lot, mainly in show jumping competitons. Most of my holidays were spent with jumping rider Michel Parot (see Tanquarville, world record high jump, 2m47!). I passed my qualifications in both France and England to become a riding teacher. I then spent over 20 years building our riding school, mainly with Angela but also the rest of the family. During these years - which were often very difficult, but passion made it possible - I spent hours each morning mucking out stables, taking horses in and out, teaching, doing day camps, taking rides out, camping holidays as well as being secretary, lorry driver, coaching at shows.. years where holidays and days off didn't exist, but an immense pleasure to have built with my family from scratch what we have today. Due to a tragic family incident in 2003, the death of my husband Bernard Ibos, I decided to also take the time to live my dream, which is riding horses. I now concentrate on dressage, and still very much enjoy teaching some of our riders (and my daughters!). When possible I go to Holland and train in the Van Baalen stable. So now, you will see me more often in the manege on my horse than on foot, but from up there I always have a watching eye on our riders and on my very much appreciated team of teachers! I am also now married to my wonderful husband David..

Angela & Attila Koppanyi
paru le 03/02/2011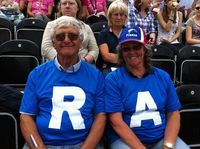 Ici au JO de Londres!
Angela & Attila sont les 'Grands-parents' de Belle Ferme! Parents de Lyn et Robert, Grands-parents de Clarissa, Jeffrey et Enzo, ainsi que Rachel et Christopher! Sans eux Belle Ferme ne serait pas ce qu'il est aujourd'hui, ou même peut être ne serait pas là du tout! Angela a debuté l'école d'équitation, à l'époque Poney Club de Cessy, en 1983. Attila travaillait au CERN, mais a aussi mis de nombreuses heures et efforts durant ces années, comme il fait toujours! Angela s'occupe beaucoup du bureau, mais aussi dehors à reparer les clôtures, soigner les chevaux, et parfois enseigner, mais surtout garde un oeil sur tout. Attila fait de même, mais prends enfin du temps aussi pour profiter de sa retraite maintenant que nous avons une plus grande équipe.
Angela & Attila are the 'Grandparents" of Belle Ferme! Parents of Lyn & Robert, Grandparents of Clarissa, Jeffrey & Enzo, step grandparents of Rachel & Christopher! Without them Belle Ferme would not be what it is today, or maybe would not be there at all! Angela started the riding school as Poney Club de Cessy in 1983. Attila worked at CERN, but also put in endless time and effort over the years, as he still does! Angela keeps herself busy in the office, outside doing jobs, looking after horses, and doing a little teaching, as well as making sure everything stays running smoothly. Attila can also be seen doing similar kinds of jobs, although he is now getting to enjoy a more relaxed retirement since our staff has grown over the years.
David Stickland
paru le 19/11/2012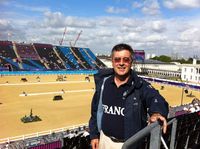 Photo DR
David, mari de Lyn, travail au CERN quand il ne donne pas un coup de main à Belle Ferme. Il peut être vu derrière l'ordinateur, sur le tracteur ou avec une fourche à la main! David participe beaucoup à l'organisation des concours de Belle Ferme. Il est aussi fondateur et directeur de "Global Dressage Analytics", entreprise qui analyse les résultats de dressage de haut niveau. Il est devenu Expert et Consultant pour la FEI (Fédération Equestre Internationale), et travail pour plusieurs des plus grands cavaliers de dressage notamment en Hollande, en Allemagne, en Angleterre ou aux USA. Vous pouvez suivre son travail sur http://globaldressageanalytics.com
David, Lyn's husband, works at CERN when he's not giving a hand at Belle Ferme. He can be seen behind the computers, in the tractor or with a pitch fork in his hand! David works a lot towards organising the Belle Ferme competitions. He is also Managing Director of "Global Dressage Analytics", a business established to analyze high level dressage statistics. He has become the world expert on the subject and is the consultant of the FEI (International Equestrian Federation). Through GDA David works with many of the worlds top riders from Holland, Germany, Britan or the USA. You can follow his work at http://globaldressageanalytics.com
Audrey Bauduin - Monitrice BPJEPS
paru le 22/11/2012
Photo DR
Je m'appelle Audrey Bauduin, je suis née le 09 juin 1987 dans le département du Nord.
J'ai commencé l'équitation à l'âge de 8 ans puis à 12 ans j'ai débuté les concours officiels sur les poneys et chevaux de club.
En 2008, après avoir passé un bac STAE (Sciences et Technologies de l'Agronomie et de l'Environnement), j'ai passé le BPJEPS.
Durant cette formation j'ai débourré Quetzal du Paradis que j'ai ensuite emmené en concours de sauts d'obstacles. Quetzal est maintenant ici à Belle Ferme afin de prolonger notre travail de "couple".
Pendant 2 ans, en alternance avec le métier de monitrice, j'ai suivi une formation afin d'obtenir les permis lourds (C) et super lourds (EC) pour transporter les chevaux et poneys en concours.
Arrivée le 27 Novembre 2011 dans le département de l'Ain, j'exerce ce métier passionnant de monitrice au seins des écuries "Sport Équestre de Belle Ferme".
J'essaye de transmettre mon savoir faire pour le sport et le respect de l'animal.
My name is Audrey Bauduin, I was born on June 9th, 1987 in the 'Nord'. I started riding at the the age of 8, and at 12 I started competing in official shows on the riding school horses and ponies. I passed my 'bac STAE (Sciences et Technologies de l'Agronomie et de l'Environnement), and then in 2008 I passed my BPJEPS (teaching qualifications). Duing that time I broke in my horse Quetzal du Paradis, who I then took out show jumping. Quetzal is now here at Belle Ferme for us to continue progressing as a 'couple'. For 2 years, as well as working as a riding teacher I followed a corse to pass both heavy goods driving licences, (up to 44 tonnes, including articulated trucks) so as to be able to transport horses to competitons. I arrived in the reigon in November 2011 where I work this passonate profession teaching at Sports Equestres de Belle Ferme. I try to teach and pass on my knowlage of the sport and respect of the animals.
Johanna Courchinoux - Monitrice BPJEPS
paru le 24/11/2012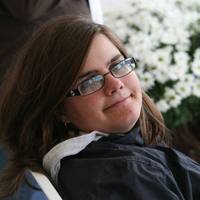 Photo DR
Je m'appelle Johanna, je suis née le 16 mai 1988 à l'Ile de la Réunion. J'ai commencé l'équitation à l'âge de 3 ans, puis à 8 ans j'ai débuté les concours CSO, Dressage, Pony Games en club.
Depuis l'âge de 15 ans, l'âge où je suis arrivée en métropole, je fais du concours complet avec ma jument Lueur. Je m'en suis occupée depuis ses 5 ans - jusqu'à l'emmener sur les épreuves Amateur 1 Grand Prix en CCE.
En 2010, après avoir passé un BTS Tourisme et après avoir réalisé un séjour de 3 mois aux Etats-Unis comme Groom/cavalière, j'ai decidé de passer mon BPJEPS à Bourg en Bresse où j'ai passé 2 ans et demi. J'ai pu, durant ce temps, sortir en concours CSO, Hunter et Dressage avec mes chevaux de formation, en épreuves Amateur. Me voici maintenant dans l'équipe d'enseignants de Belle Ferme depuis le 9 octobre 2012. A Bientôt en cours!
My name is Johanna, born on 16th of May 1988 on the l'Ile de la Reunion. I started riding at the age of 3, and competing at the age of 8 in show jumping, dressage and pony games. At 15 years old when I arrived in France I competed in eventing with my mare Lueur. I have taken care of her since she was 5 and brought her on to Amateur 1 Grand prix level in eventing. In 2010 I passed a BTS in tourism and spent 3 months in the USA as a groom/rider. I then decided to pass my BPJEPS (teaching qualification) in Bourg en Bresse where I spent two and a half years. During that time competed in jumping, hunter and dressage competitions on the school horses at Amateur level. Here I am now among the team of teachers at Belle Ferme, since the 9th of October 2012. See you soon in lessons!
Rachel Stickland - Monitrice BPJEPS
paru le 19/11/2012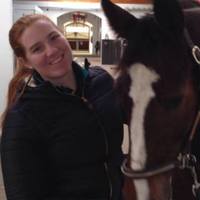 Photo DR
Bonjour, je m'appelle Rachel Stickland. Je suis la fille de David Stickland et belle fille de Lyn Stickland (aussi soeur de Clarissa). J'ai la nationalite Britannique et Americaine, mais je suis nee a Geneve et a vecu la plupart de me vie dans le Pays de Gex, ainsi que quelques annees en Angleterre. En 2010, apres avoir obtenu mes 'A-levels', Je suis partis 1 an et demi au Pays Bas pour travaille en tant qu'eleve aux Dressuurstal van Baalen, une ecurie de dressage base a Poederoijen, la maison des cavalieres de dressage Coby, Marlies, et Marrigje van Baalen.
Je suis revenu en Gex en 2012 avec beaucoup d'experience et mon cheval Zorba (Errolympic CTWO) avec qui je tourne actuellement en concours de dressage au niveau Prix St Georges.
Je suis actuellement monitrice BPJEPS a Belle Ferme. J'enseigne maintenant plutot les petits cavaliers (que j'adore!) ainsi que quelque de nos cavaliers de competition en dressage.
Hi, my name is Rachel Stickland. I am the daughter of David Stickland and step-daughter of Lyn Stickland (also sister to Clarissa). I have British and American nationality, but was born in Geneva and have lived most of my life in the Pays de Gex, as well as a short while in the UK. In 2010, after having succesfully passed my A-levels, I left to spend a year and a half in the Netherlands as a working-student at Dressuurstal van Baalen, a dutch dressage stable based in Poederoijen, home to dressage riders Coby, Marlies, and Marrigje van Baalen.
I returned to Gex in 2012 with a lot learnt, and my horse Zorba (Errolympic CTWO) with whom I currently compete nationaly in dressage at Prix St Georges level.
I am now a teacher at Belle Ferme with a BPJEPS teaching qualification. I teach mainly the younger students (which i enjoy greatly), as well teaching dressage lessons to a handful of students from our competition team, and to anyone else willing to learn.
Clarissa Stickland
paru le 19/11/2012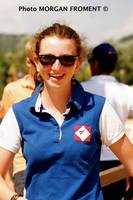 Photo DR
Clarissa (née en 1999, fille de David & Lyn, et soeur de Rachel) n'a vécu qu'à Belle Ferme, et a grandi entourée de chevaux et poneys. Elle a monté à cheval pour la première fois bien avant sa naissance (donc a pris de l'avance!) et a participé à son premier concours international au CDIP de Zwolle, Hollande, en 2010, pour représenter la France à l'âge de 11 ans. Depuis Clarissa etait membre de l'équipe de France avec sa ponette Diana de 2010-2014. Elles étaient toutes les deux réservistes pour les Championnats d'Europe en 2011, et étaient prises dans l'équipe en 2013 (Arezzo, ITA) et 2014 (Millstreet, IRL). Grâce aux cavalières Canadiennes Tanya et Evi Strasser, Clarissa s'est aussi vue confier le magnifique étalon Cappuccino Tyme, qui lui aussi commence le circuit international.
A préciser, Clarissa va aussi à l'école à La Chataigneraie, Ecolint, quand elle n'est pas sur le dos d'un poney! Sinon, on peut la voir regulierement soit sur un cheval soit en train de donner un coup de main a nos monitrices.
Clarissa (born in 1999, daughter to David & Lyn', and Rachels sister) has only ever lived at Belle Ferme, and grew up surounded by horses and ponies. She was already on a horses back long before she was even born (so got quite a head start!) Clarissa has competed in many different disciplines at multiple levels throughout her riding career. She now concentrates mainly on her dressage career. She competed in her first International Dressage show at the CDIP Zwolle, Netherlands in January 2010 representing France at the age of 11. She was a regular member of the French Pony Team from 2010-2014, competing primarily on her mare Diana. Together they were reserves for the 2011 European Championships, and team members for the 2013 (Arezzo, ITA) and 2014 European Championships (Millstreet, IRL). Thanks to Canadian riders Tanya and Evi Stasser (Good Tyme Stables) she also had the ride on the very handsome stallion Cappuccino Tyme, who she also competed at International level. Having finished her pony carer this summer, Clarissa is now moving to horses and hopes to start competing her mare Lacoletta at national and international junior level these coming years.
Clarissa does actually go to school as well at La Chataigneraie, Ecolint, when she's not on a horse! Otherwise she can be seen regularly around the farm riding or helping out.

Dariusz et Karol
paru le 17/01/2011
Darek est notre responsable des écuries et palefreniers. Il est avec nous depuis plusieurs années, et son travail, efficacité et rigueur irréprochable le rend indispensable! Le bon déroulement de tout ce qui concerne l'entretien des écuries, des parcs, des tracteurs, des manèges et carrières, c'est grâce à lui. Darek est Polonais, vient de Pologne où il a sa femme et son fils. Ses congés sont donc toujours pour retourner chez lui. Parfois sa petite famille vient aussi lui rendre visite a Belle Ferme.
Darek is our head groom. He has been with us many years and his irreprochable work, efficency and trust we have in him has made him indispensable. The good upkeep of everything concerning the stables, fields, tractors, arenas, is thanks to him! Darek is Polish, comes from Poland where he has a wife and son. All his holiday time is spent with them in Poland. Sometimes his family comes to visit him here at Belle Ferme.
Karol travail avec Darek aux écuries. Il est aussi Polonais, chez nous depuis l'été, et, comme Darek, fait un travail irréprochable dans les écuries, Il ne parle pas beaucoup, la langue etant une barriere, mais arrive bien a se faire comprendre quand c'est necessaire! Il repartira rejoindre sa famille en Pologne pour Noel. Sa fiereté du travail bien fait fait de lui aussi un vrai atout pour Belle Ferme.
Karol works with Darek in the stables. He is also Polish, and has been with us since the summer. Like Darek, he does an irreprochable job in the stable. He doesn't talk much, the language being a barrier,  but can make himself understood when he he needs to! He will go back to Poland to join his family for Christmas. His proudness of well done jobs makes him too a real asset to Belle Ferme.