Bienvenue chez Saxo! (voir aussi l'onglet a gauche/also see the tab on the left)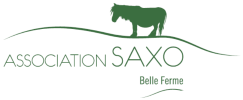 Que deviennent nos chevaux et poneys quand ils ne peuvent plus travaillé? C'est un sujet souvent delicat, à Belle Ferme on à trouvé des solutions pour s'occuper de leurs retraite..
What do our old horses and ponies become when they can no longer work? It's a delicate subjet. At Belle Ferme we found solutions, and take care of thier retirement..
Site Saxo: ici